Relevant finished or ongoing projects
2022 – 2025
STARLIGHT – Skills for Tourism and Recognition of the Importance of Dark Skies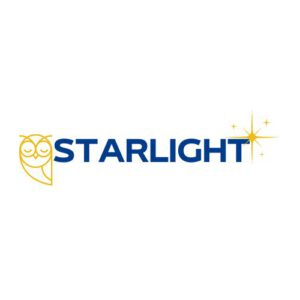 We are proud partner of  the ERASMUS+ project STARLIGHT: Astrotourism is considered one of the attractive upcoming trends in nature and cultural tourism. More and more people are becoming aware of the problem of light pollution for humans and animals and devote their free time to exploring the dark sky and the stars. The European project STARLIGHT deals with the observation of the dark sky as a tourist attraction and combines scientific education about the effects of light pollution with competences for tourist offers. Association Kultur und Arbeit is the only German partner in the project.
STARLIGHT aims to create the conditions for employment opportunities for young Europeans who would like to work in astrotourism. This involves both scientifically based vocational training in astronomy and tourism qualifications. In this way, stars become a competitive advantage for sustainable and experience-oriented tourism.
Europe is the world's No. 1 tourism destination, but European tourism faces many challenges, starting with the need to develop new attractive products in a sustainable way for guests, locals and the environment. New qualifications are continuously needed for both young professionals and experienced tourism professionals.
STARLIGHT is developing a qualification programme that focuses on scientifically sound aspects of astronomy, biodiversity, history, cultu,re and light pollution. The aim is for young Europeans to acquire knowledge about the history of the sky and the stars, while at the same time creating sustainable employment opportunities in tourism. Institutions from six European countries (Austria, Bulgaria, Germany, Italy, Slovenia and Spain) are working together on this project. They bring together competences from astronomy, nature conservation of mountain regions, cultural heritage, local development and sustainable tourism.
STARLIGHT is coordinated by:
ISTITUTO NAZIONALE DI ASTROFISICA
Osservatorio Astrofisico di Torino
Via Osservatorio 20
I-10025 Pino Torinese (Italia)
More: Facebook: @starlight.project Instagram: Starlight.erasmus LinkedIn: /Unternehmen/Starlight-Project
2021 – 2024
CHARTER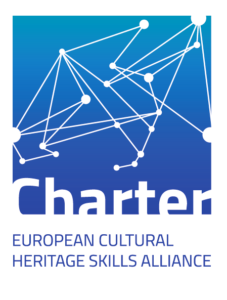 Kultur und Arbeit e.V. is very pleased to be a partner in the European CHARTER – project supported by the Sector Skills Alliances programme of the ERASMUS+ programme since 1.1.2021. The CHARTER project will create a permanent, comprehensive, sector skills strategy for the cultural heritage sector to ensure that Europe has the necessary cultural heritage competences and skills to support sustainable societies and economies.
The project will use strategic collaboration and innovative methods to bridge the gaps between education, in-service training and the needs of employers. The aim will be to reduce skills gaps and fill data gaps in the heritage sector.
The project's 21 partners – plus seven affiliates – from 14 EU Member States are leading institutions in higher education, vocational training, employment and policy-making with strong links to the European heritage sector.
The project will collect strategic data on core areas of education and transversal competences, including digital, technological and green education content. It will evaluate existing programmes, identify gaps and propose capacity building models. It will also consider mechanisms for formal education and training (using the EQF and EQEVET frameworks), non-formal and informal learning, and job mobility. To this end, regional pilot projects will be carried out to validate these approaches. The project will also analyse sectoral dynamics and map the different stakeholders. It will propose task descriptors for occupational and economic frameworks.
CHARTER will build a lasting alliance for cultural heritage competences in Europe by mapping and aligning methodologies and outcomes, while strengthening effectiveness at European, national and regional levels. The aim is to enable Europe to promote, enhance and sustainably protect tangible and intangible cultural heritage.
Learn more on the CHARTER homepage.
2020 – 2022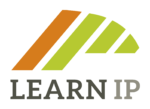 LEARN-IP – Intellectual Property Rights and Geographical Identification Training for Cultural Heritage and Cultural Tourism
We coordinated the ERASMUS+ project "LEARN-IP – Intellectual Property Rights and Geographical Identification Training for Cultural Heritage and Cultural Tourism" (2020 – 2022). LEARN-IP is implemented by seven European institutions with expertise in the fields of vocational training, intellectual property rights, cultural heritage, cultural tourism and digital technologies. They developedd an online training programme that will help heritage managers and cultural tourism operators to identify property rights and check their relevance to products and services using digital technologies.
Learn more: https://learn-ip.eu/ and like us on Facebook: https://www.facebook.com/learn.ipr.project
Download the LEARN-IP brochure.
2020 – 2022

ARCHEODANUBE – Archaeological parks in urban areas as a tool for sustainable local development
We were  project partner in the European Interreg project "ARCHEODANUBE – Archaeological Parks in Urban Areas as a Tool for Local Sustainable Development" – and the only German partner institution. The project was supported by funds from the INTERREG Danube Region Programme. We contributed with our expertise in cultural heritage and cultural tourism – together with a total of 15 partner institutions from the Danube countries.
The archaeological heritage of the cities along the Danube is rich and diverse, but under threat due to the lack of common policies, knowledge, and resources for preservation. The project aim was to develop tools for archaeological sites in the inner-city area, such as integrated planning concepts and educational opportunities for all stakeholders. This affects sustainable urban development as well as cultural tourism. The questions touch on the entire inner-city development: How can preserved remains be integrated into buildings and urban areas? How can they best be integrated into sustainable mobility? What can be achieved with them in urban and economic development?
So-called "archaeological parks" are one possible solution. The project wants to show and test ways for the development of archaeotourism. To this end, plans, training courses, and tools for conservation and visitor-oriented presentation will be developed. All results will be representative of the Danube region and beyond. ARCHEODANUBE is coordinated by the Slovenian city of Ptuj.
Visit the project on the project homepage and on Facebook.
Programme: Interreg Danube Transnational Programme
Project duration: 07/2020 – 12/2022
Partner countries: Slovenia, Hungary, Romania, Croatia, Germany, Bulgaria, Czech Republic, Austria, Moldova, Bosnia-Herzegovina, Serbia, Bulgaria
Join us on Facebook  and check the homepage .
Download the ArcheoDanube brochure.
2019 – 2022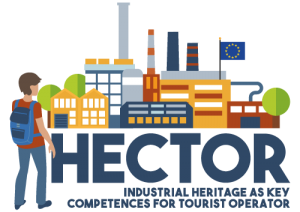 HECTOR – Industrial Heritage as key Competences for Tourist OperatoR
The HECTOR project aimed to improve the employability of young Europeans (18-30 years) with a qualification in the tourism sector by providing them with core competences and specialisation in adventure tourism for industrial heritage.
The HECTOR project targeted a specific area of tourism: industrial heritage, of which 20 sites in Europe are on the World Heritage List related to industry, production and technology. Industrial heritage offers interesting case studies and is relevant from a cultural point of view as it reflects the socio-economic and socio-cultural development of a community. Furthermore, the valorisation of industrial heritage offers an opportunity for sustainable development. These characteristics make industrial heritage a valuable asset as it can be developed from a tourism perspective into an experience package that creates links with people and places and promotes accessible and sustainable tourism.
A HECTOR curriculum was developed: it aims to provide skills, competences and knowledge to people already trained, in line with market trends, by proposing a course and a job-related experience that focuses on a specific theme (industrial heritage) but does not neglect transversal skills, which are criticised by employers as serious shortcomings.
Nine institutions from Italy, Slovenia, Bulgaria, Spain, Austria, Germany and Belgium worked together to train young tourism professionals in the specific field of tourism and the valorisation of industrial heritage. Kultur und Arbeit was the only German partner in this project. HECTOR was coordinated by the Italian Unione dei Comuni Amiata Val d'Orcia – Parco Museo Minerario di Abbadia San Salvatore.
The qualification is done by an online course and a summer school. Through a multidisciplinary approach, the participants were supported in the creation of an "Industrial Heritage Experience Toolbox", i.e. an offer that enables tourists to connect with people and places whose history, habits and traditions are marked by local industrial development. From a training perspective, this is an innovative approach that defines a new profile, with a strong focus on sustainable and accessible tourism and transversal skills such as problem solving, entrepreneurship and communication.
See the HECTOR  homepage https://www.hector-training.eu/
Kultur und Arbeit is very proud that HECTOR project was nominated for the Baden-Württemberg Tourism Innovation Prize 2024!
Project number: 2019-1-IT01-KA202-007768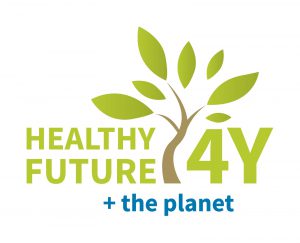 2019 – 2021
We were very pleased to coordinate the project HEALTHY FUTURE 4 YOU & THE PLANET, which is supported by the European YOUTH programme ("Youth in Action").
Climate change and food issues are closely linked, as agriculture makes a significant contribution to the production of greenhouse gases. Changing diets towards more plant-based foods, meat from animals with low enteric fermentation and energy-efficient processed foods offer a challenging and so far little researched area to combat climate change.
In youth education and work, it is necessary to address these problems at an early stage. It is important not only to raise awareness of the issue of climate change and its impact on dietary patterns, but also to provide young people with the necessary skills to contribute to a sustainable lifestyle.
Therefore, the overall aim of the project was to provide access to successful approaches that will qualify children and young people and youth workers across Europe to make responsible decisions on climate-impacting measures. They need to become aware of the impact of food on their health and the climate and develop a constructive attitude towards environmental and nutritional issues.
The target groups of our project were youth workers and teachers, but also educators for the integration of young refugees who also urgently need climate, environmental and nutritional education, especially with regard to living in a new society.
The HEALTHY FUTURE partnership consisted of four qualified European education providers:
Read more: http://www.healthyfuture4you.eu/
Download the HEALTHYFUTURE brochure
Project number  2019-1-DE04-A205-017633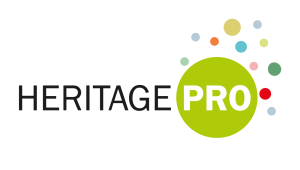 2018 – 2021
HERITAGE-PRO – Interdisciplinary Training for Professionals of Different Disciplines Towards Sustainable Management and Preservation of Cultural Heritage
HERITAGE-PRO project was an essential contribution to the European Year of Cultural Heritage 2018 and beyond. Main objective was to upgrade the interdisciplinary competences of the workforce of heritage managers all over Europe in order to better valorize expertise from different disciplines relevant for cultural heritage preservation.
Cultural heritage management all over Europe is done in silos of knowledge as the disciplines are neither trained nor experienced to cooperate in a pre-defined and professional way. Formal education of art historians, restorers, conservators, craftsmen, and cultural managers neglects skills that are essential in their professional life for successful and cost-efficient preservation activities. They are trained as specialists in their field but never learn how to organise interdisciplinary knowledge and base preservation decisions on that. The challenge is how to bring these different disciplines, expertise, expectations and visions cooperatively together in order to avoid future repairs or a restricted use of a heritage site.
Therefore, there is an urgent need to develop an interdisciplinary training approach based on professional disciplines as well as social skills. A special need has risen during the last years by finding professional mechanisms for involving volunteers in the most satisfying way for them as well as for professionals.
This project had 4 objectives:
1. Developing a multilingual training scheme that takes place parallel to work with a transdisciplinary approach including all disciplines necessary for the successful management of preservation activities at heritage sites;
2. Developing multilingual guidelines for heritage managers in order to give them support through challenging preservation processes;
3. Developing a multi-lingual training kit for easy uptake of the training scheme and making it accessible in the most efficient way;
4. Organising and implementing a training camp for future heritage managers as well as young craftspeople in the heritage preservation subject in European countries (young people at their career start e.g. at the end or shortly after formal education).
Direct target groups are heritage professionals, e.g. those who are responsible in the field of cultural heritage preservation such as site managers and professionals included in preservation tasks (architects, archaeologists, conservators, curators, art historians).
Indirect target groups are craftspeople working at heritage sites (installers, carpenters, masons), administrators and policymakers (government officials engaged in public agencies, who are involved in the planning process of heritage at local, regional and national level, politicians with a mandate for cultural heritage), urban and regional planning specialists, members of EU, national, regional and local non-governmental organizations and private sector, which are engaged in the field of heritage preservation and sustainable management, young people in formal education for cultural management, e.g. at universities in different disciplines, people in master craftsmen education, locals / volunteers e.g. in "circles of heritage friends".
HERITAGE-PRO was implemented by a high-class partnership of six European institutions, companies, and networks from Germany, Spain, Austria, Sweden, and Belgium, all active in vocational training for the preservation of cultural heritage. They developed cooperatively a vocational training scheme that closes the gap of interdisciplinary training in the field.
More about HERITAGE-PRO – have a look at the project website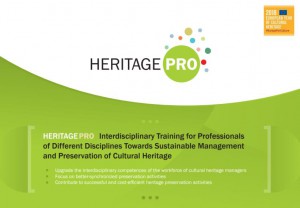 Have a look at and download the HERITAGE-PRO brochure
2017 – 2020

D-CULT – Digital Cultural Literacy as a Means for Integrating New European Citizens

The fact that Palermo was the Italian Capital of Culture 2018 served as focal point for this ERASMUS+-Strategic Partnership. The D-CULT project contributd a constructive approach to migration in Europe. It developed an innovative model for cultural integration of adult immigrants by bringing them to "re-build" European cultural heritage using digital communication techniques and tools.
The overall objective was to facilitate the cultural integration of new European citizens, i.e. refugees and immigrants and to increase their understanding of European history and culture and, at the same time, their communication and IT competences. The specific objectives were to develop, among others,
the modular D-CULT Toolkit for new European citizens which encourages, motivates, and teaches how to collect or produce cultural objects related to the history and culture of their new living environment in digital formats (text, picture, video etc.) and to exhibit them in a Virtual Museum. The content is available in the languages of the partnership with additional explanations in Arabic and Pashtun in printed form, on the Internet, and as mobile applications;
the D-CULT Curriculum for adult education trainers with indications about the didactic design and operation of such measures;
the D-CULT Virtual Museum, which provides the IT infrastructure and IT platform to exhibit the objectives that have been produced by the "artists", i.e. the new European citizens in their cultural integration action. The Virtual Museum  supports their better understanding of our European past, reduces cultural clashes and supports them to understand and accept our European values;
the D-CULT Handbook summarizes and describes the findings of the first implementations of this new social and cultural integration action in five different European states, and shows how to transfer the D-CULT Concept into other environments. This Handbook is intended to have a positive impact on the integration activities in all other European countries which are also affected by the current migration and refugee situation.
2016 – 2018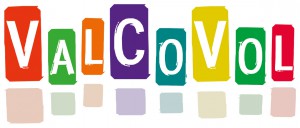 ValCoVol – Validation of Competences Acquired in Volunteering
The overall objective of the ValCoVol strategic partnership was to provide an overview about projects, initiatives and methods for the validation of non-formal and informal learning, through volunteering, and to identify instruments, models, and schemes which validate and clearly identify the key competences that have been gained by volunteers.
In order to reach the objectives, the following activities and results were implemented:
an e-platform with access to initiatives and learning information materials that have been identified and collected in the course of the project, especially concerning successful models and best practice concepts for the validation of key competences acquired during volunteering and systems of recognition of competences acquired through non-formal and informal learning;
an online interactive forum for networking, exchange of experience and good practice that makes use of Skype'sreal-time translation in 8 spoken and 50 written languages, thus breaking down language barriers between users from different countries, and supporting ideas, foster exchange and assist initiatives that contribute to the European society as a whole;
 a "White Book for recognition of competences acquired through volunteering" that gives an overview about the current situation of the specific project environment in the partners' countries, and presents the initiatives, projects and materials with explanations in all languages of the partnership;
an easily adaptable template ("Key Competences Template") for volunteer organisations to identify competences of volunteers rather than describe volunteer work. This template gives employers meaningful information on competences of job applicants gained in voluntary work.
Our target groups and beneficiaries:
volunteers who need a meaningful document about their expertise for entering the paid employment market
organisations which work with volunteers and have to issue certificates on their activities
employers who want to learn what kind of expertise job applicants have gained in voluntary environments and tasks
ValCoVol was implemented by an experienced partnership of six VET providers, non-profit organisations with a high number of volunteers, and organisations with access to employers' associations and employment agencies. They comprised expertise and experiences from Germany, Austria, Slovenia, Slovakia, Italy and the Czech Republic.
2016 – 2018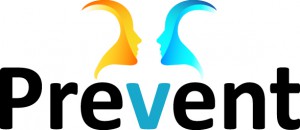 PREVENT – Prevent Radicalisation – Support for Professionals in Their Work with Refugees and Migrants

People working with refugees, asylum seekers and migrants are often faced with tensions within and between groups of refugees. In some cases, they are faced with radicalization signals. The Prevent project focuses on best practices implemented in Europe to prepare humanitarian workers to address these issues.
The overall objective is to equip public people working with refugees, asylum seekers and migrants with skills and competences
to deal with (intercultural) tensions between diverse groups of their clients
to detect indicators among their clients/learners who are at at risk of extremism, including the risk of being drawn into terrorism, either directly or through the radicalisation of family dependents
to identify which is the best way to build resilience to radicalisation
to recognise and respond to increased concerns about extremism and discrimination, e.g. racism, islamophobia, anti-Semitism,which refugees and many settled migrants face
to reduce racism and xenophobia in the society.
2015 – 2017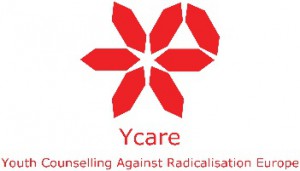 YCARE – Youth Counselling Against Radicalisation Europe – A Holistic Approach to Support Vulnerable Adolescents

For a critical minority of young people, adolescence is a time when serious problems emerge or earlier difficulties escalate. They may have difficulties at school, lack good role models or the resilience to deal with new pressures. They may be confronted with alienation from and experience discrimimation and open or hidden racism. Since they do not see positive perspectives, a rising number is attracted by extremist ideologies, such as Neo-Nazi groups or the "Islamic State".
The people best placed to tackle the phenomenon of radicalisation are people in direct contact with targeted individuals or vulnerable groups of population." We must help young people to stay on track – by improving the support and opportunities available. Young people who are experiencing difficulties need counselling that is based on a holistic approach.
The overall objectives are to collect and develop evidence-based approaches and models that show how to
make youth counselling services more attractive and relevant for vulnerable young people on their way into adulthood and to contribute to de-radicalisation.
counteract the negative effects of alienation that occurs frequently to adolescents and which often leads to social
disenfranchisement, thus preparing the path to join groups offering extreme ideologies, be it Neo-Nazi, the Islamic State or other terrorist movements
find answers to the recent phenomen of radicalisation of young men and women, of European and other origins, who join in raising numbers jihadist organisations
ensure that their needs are also identified early and met by youth counsellores working together effectively – in ways that include the views and experiences of young people themselves
strengthen the influence of vulnerable young people, and their families and communities, and their ability to bring about positive change
explain and justify the need to make a paradigmatic shift from the "medical model" – which is still prevailing in many European
countries in youth counselling – to the "social model
ensure that vulnerable young people receive a personalised package of support, information, advice and guidance, and learning and development opportunities, with support for their parents if needed
The main products will be:
Guidelines, a framework for counsellors to inform about targeted youth support to help vulnerable young people early to address their dfficulties as soon as possible and to prevent their problems escalating, in order to prevent them from being drawn to into antisocial behaviour, crime or joining terrorist organisations and movements Best Practice Toolbox, offering a modular range of awareness raising, training and demonstration materials for youth counsellors, trainers as well as other professionals working in the field of youth counselling, based on latest positive psychology research findings, particularly the use of new didactic tools combating problems such as radicalisation Online Platform and Mobile Applications, supporting the delivery of the all outputs of the project and providing new means of interaction between learners and trainers, as it supports electronic management, storage and presentation of materials, transcending limitations of space and time and creating the necessary conditions for a dynamic teaching environment.

2015 – 2018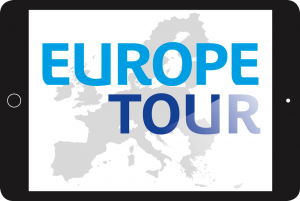 EUROPETOUR – Vocational Training in Cultural Tourism for European Heritage

EUROPETOUR project aims at improving the professional qualification of actors in the cultural tourism market of rural areas in 8 European countries by qualifying staff and local stakeholders in creating attractive offers and in using social media marketing. It equally targets actors from tourism as well as culture and strives in a holistic and integrative approach to include all relevant actors and unlock the economic potential for their business opportunities. The 10 EUROPETOUR partners from Germany, Belgium, Italy, Bulgaria, Romania, Austria, Poland and Spain represent culture, tourism, training providers, local and regional authorities, business developers and cultural touristic networks. They will directly reach 3.000 stakeholders by their networks and in 10 multiplier events. They will train them in the development of cultural-touristic offers and the business-oriented use of social media in the marketing of cultural tourism. EUROPETOUR offers the potential of reaching 9.554.300 culturally interested visitors to six European regions.
At the core of the project are 4 cultural touristic European networks in Germany (Baden-Württemberg), Poland (in the border region of Brandenburg and Zachodniopomorskie), Romania (Bucovina) and Austria. They will analyze their experiences, pull strategies and target audiences and define their training needs for creating appealing cultural touristic offers for visitors to their regions.
A multi-lingual training module for staff of culture and tourism institutions will be developed. Two more European regions will be included: Marche/Italy and Cantabria/Spain. Culture and tourism will be brought together in a tourism market orientated way. Recommendations for the professional use of social media will be condensed in a guidance document and communicated to culture and tourism institutions on national and European level.
Cultural-touristic offerors in rural areas often use insufficient marketing tools which do not include the European approach, although the added value in terms of economic benefit is considered as an attractive option. Substantial and sector-specific qualification is needed as precondition for unlocking the full economic potential of cultural tourism. As a EUROPETOUR result 40 connected cultural touristic offers along cultural and creative topics will be created. They will connect the regions by ushering visitors from one region to the other.  Via the partnership and the included networks an outreach to 16 European countries is foreseen.

2014 – 2016
QUALIGUIDE
QUALIGUIDE  was a mobility project within the European ERASMUS+ funding scheme.  The staff of Association Culture & Work  could apply for qualification courses and other offers at European education providers in the fields of cultural economy, cultural tourism, social media applications and more. The scheme offered a unique chance to acquire relevant  knowledge, which is not yet available in the association.

2012 – 2013: sub-contractor in the European project
LIMES – Large Scale Innovative and Mobile European Services for Culture Tourism in Rural Areas
The Roman limes is the only European cultural heritage which binds together ten European countries since antiquity: From the North-West in the United Kingdom to the Netherlands, Germany, Austria, Slovakia, Hungary, Romania, Croatia and Serbia to the South East in Bulgaria it is a unique monument for many regions and partly already nominated UNESCO world heritage. Only a small part of the limes is accessible at the moment as the former fortification leads through rural regions which are not fully developed for tourism yet.
Therefore the main objectives of the LIMES project were
to develop innovative mobile services along the limes which support information brokering, travel mobility and additional services for visitors as well as local people,
to network touristic sites along the limes in all respective countries via these services,
to support established as well as new businesses along the limes route,
to create income and new jobs for rural areas,
to make the European identity and the common European history visible and perceptible for visitors all over the world.
The partnership from Germany, Austria and Bulgaria focused on the technical development of mobile services as a source for regional development and the creation of new, innovative value chains for the touristic sector in all countries.
2010 – 2013: partner in the European project
MEMORI – Measurement, Effect Assessment and Mitigation of pollutant Impact on movable cultural assets – Innovative research for market transfer
MEMORI Objectives:
To provide the conservation market with innovative measurement technology, improved pollution effects knowledge and evaluation and control methods for the reduction of gaseous pollutant impact on movable cultural assets, – also facing increased use of protection measures, such as enclosures for movable cultural assets located indoors in new or rebuilt cultural heritage buildings, to satisfy demands for energy saving to mitigate climate change.
Kultur und Arbeit was the responsible partner for market transfer activities and was also included in dissemination activities.
2010 – 2012:
EVoCH – ECONOMIC VALUE OF EUROPEAN CULTURAL HERITAGE
The main idea of the project is the creation of a European Network and Observatory for the study and promotion of the Economic Value of the European Cultural Heritage.
The main objective of this European Network and Observatory is to create a European wide body of study, analysis and dissemination of the Economic Value of Cultural Heritage, as well as a common place for sharing a high quality knowledge and experience, with the added value of exchanging expertise and different approaches and stimulating cooperation within Europe.
2010 – 2012:
Fashion Talk
Fashion Talk is a so called "learning partnership" of the EU GRUNDVIG programme
"Fashion plays an extremely important role in the lives of most juveniles and young adults. Peer groups create an intrinsic net of open or hidden requirements for the individual, and only persons with a high self-esteem and self-conscience dare to negate the dictate of fashion. For low income persons, the inability to equip oneself with all the "must have" very often leads to frustration and to a feeling of inferiority.
Because of the omnipresence of fashion, and the social importance connected with it, "fashion" could therefore be used in the educational sector as an ideal vehicle to convey knowledge about, and competences for the world in which we have to live and to work. "Fashion talk" means a horizontal educational activity that combines young adults' passion for fashion with important information about issues which help them to become conscious, socially, economically and environmentally responsible European citizens.
The partnership will organise study visits in the countries of the partnership to investigate different models and approaches. It will put together staff members and learners from different European countries with the aim to communicate and to reflect fashion aspects at their personal levels, the level of the respective peer groups and in the context of globalisation."
Fashion Talk Blog
Fashion Talk Flyer
2009 – 2011:
coordinator of a cultural economy project funded by the German state of Rhineland-Palatinate and the city of Altenkirchen, Title: "Identifizierung der Potenziale neuer Informationstechnologien bei der Generierung ökonomischer Effekte für die Kulturwirtschaft" ("Identification of the potentials of new information technologies for generating economic effects for cultural economy) More
2009 – 2010:
sub contractor in the WISAWI-project of the city of Mannheim, an ESF-project which qualifies scientists from the humanities for the working market in culture; ACW developed a working field in cultural heritage ("small museums in rural areas") together with the scientists
2009:
coordinator of two studies on the economic potential of the German city of Altenkichen together with the Technical University of Vienna (results published in our "Studien" section) ; the studies were the first Germany wide which identified the cultural economic potential for small cities in rural areas
2009
five seminars were offered (partly together with the International Centre for Cultural Heritage Research and Protection at Bronnbach Monastery, Germany) for target groups from cultural heritage, cultural entrepreneurs, culture tourism and municipalities on different topics for identifying and fostering economic effects in culture and cultural heritage
2009 – 2011
partner in the LEONARDO – Lifeling Learning Project "StopDropOut" (coordinator Austrian "Verein Blickpunkt Identität", Unterrohrbach-Vienna), an employment project for young grown-ups
2009 – 2010:
Organization of 6 events in Rhineland-Palatinate for municipalities, economy and cultural workers for communicating cultural economic strategies (together with Zukunftsinitiative Rheinland-Pfalz (www.zirp.de)
2009:
Implementation of a nationally funded employment market project for special schools in order to support the employability of cultural workers (especially artists) in schools with children with higher foster demands
2008:
Implementation of the workshop "From Research to Sustainable Exploitation – How to Benefit Economically from Research Results in Cultural Heritage" at the 8th European Conference on Research for Protection, Conservation and Enhancement of Cultural Heritage
2008 – 2013:
Development and implementation of a sustainability strategy in economic terms for 2 cultural heritage projects of the German Bundesland Rhineland-Palatinate: ACW accompanied these project for 6 years in order to identify and install cultural economic effects; contracting bodies: a German municipality (Bad Kreuznach) and the Protestant Church of Hessen-Nassau
Inclusion in relevant networks
ACW has initiated three networks: the AKULTOUR.net, the vertikult-network and the TRANSFER-network.
The AKULTOUR.net is a network in cultural tourisms which started working in 2009 and aims at building a sustainable infrastructure for cultural-touristic activities in the Westerwald region (between Cologne and Frankfurt/Main).
The vertikult-network includes 20 research and application institutions in Germany, Finland, Austria, Hungary, Czech Republic, Poland, Great Britain and Italy with the aim of bringing together expertise in fostering employability in culture.
TRANSFER is an independent network of researchers, project developers and entrepreneurs of the cultural heritage (CH) sector. It was founded in 2008 at the 8th European Conference on Research for Protection, Conservation and Enhance-ment of Cultural Heritage. The network fosters the sustainable exploitation of CH research results by disseminating relevant information.
Market transfer and employment aspects are of special interest.
All interested parties are welcome to join the networks, which are hosted by the Association Culture & Work.
ACW is also included in the MEDICI-network (www.medicif.org), a European Commission Cooperation Framework, hosted by the Politecnico di Milano (Prof. Alfredo Ronchi). The network aims at fostering multimedia access to Cultural Heritage